Hotels in Rovno:

Aivengo Hotel, Kolodenka
General information:
2-floor building Hotel is in outlying districts of Rovno, Lviv direction Prices per day from USD 30 to 200 No reservation costs
Decsription:
Comfortable Rovno hotel – hotel-restaurant Aivengo – gladly welcomes you on pages of our official web-site. Our hotel can offer you everything necessary for decent rest in Rovno and even more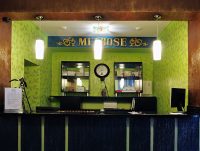 Hotel MelRose, Rivne
General information:
The hotel is in a cottage near Rivne. 14 rooms. Rate from 350 to 1400 UAH.
Decsription:
The modern building of the hotel and round the clock service will make your stay in the hotel for a comfortable home. It offers - 15 rooms, restaurant, bar, sauna, Turkish bath. Each room has a television, refrigerator, air conditioning and in-room VIP - Jacuzzi.

Sofia Hotel in Rovno
General information:
35 hotel rooms. The hotel is situated on a route Rovno-Chep in Large Omelyana village. Price per day from UAH 300 to 600.
Decsription:
Sofia Hotel is the three-stars hotel in Rovno, which is on Rovno-Chop route in a village Large Omelyana, at departure from the city. At your disposal 35 comfortable hotel rooms, which are equipped with a conditioner, TV, a fridge, shower-baths and comfortable furniture. There are tennis courts, billiards, a sauna, a fire-place hall to guests services.There are comfortable summer arbours and opened pool for summer vocation in the hotel.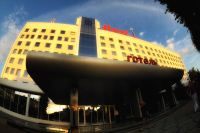 Hotel Mir, Rivne
General information:
Located in the center of Rivne. 97 rooms seven categories.
Decsription:
Hotel is located in the center of Rivne. Rooms are equipped with free Internet access (Wi-Fi), electronic security system and a mini-safe. Guests at the World - European cuisine restaurant, rental konfernts hall seating 100 people, parking.
Other hotels in Rovno:

Skolmo hotel
Klevan, B. Khmelnitskogo str., 1



Turist hotel
Rivne, Kievskaya str., 36