Hotels in Poltava: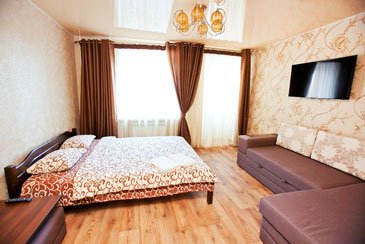 Agency Poltava City, Poltava
General information:
Poltava City agency rents apartments in apartment booked rooms in hotels, guided tours of the city, provides a transfer, visa support and send flowers with gifts.
Decsription:
Agency Poltava City offers its services to ensure that tourists and business travelers a reliable and comfortable housing, in apartments and hotel rooms in Poltava.

Aleya Grand Hotel, Poltava
General information:
Hotel rooms of 5 categories The hotel is in business center of Poltava Price per day from UAH 400 to 1500
Decsription:
Aleya Grand Hotel in Poltava is situated not far from Poltava center close to the main business, cultural, historical, entertaining and sports centers of the city. Korpusniy Park is situated in several minutes of walking from the hotel – the most favorite place of recreation of Poltava dwellers and city guests. Raffinato Restaurant is situated on the first floor of the hotel.
Tourist Hotel, Poltava
General information:
Hotel by the river Vorskla Poltava. Rooms 7 categories
Decsription:
Hotel Tourist is situated on the picturesque banks of the river Vorskla, near the town beach, among the ancient trees of green space. The hotel overlooks the hills with churches and forests. The hotel offers various rooms for 240 people. The hotel - restaurant, conference hall, parking.
Other hotels in Poltava:

Lenivaya Vera hotel
Poltava, Pishnoe v., Kievskaya str., 2a



Almaz hotel
Poltava, Kievskoe shosse str., 60



Rivyera hotel
Poltava, Ribalskiy lane, 16



Gallereya hotel
Poltava, Frunze str., 7



Poltava hotel
Poltava, Grushevskogo str., 1