Hotels in Massandra:
Hotel Lavender, Lavender
General information:
The hotel is on one of the resorts of Big Yalta in the Crimea. Price per day from 1000 to 3000 rubles.
Decsription:
Hotel Lavender is located between Yalta and the settlement Nikita at Massandra Palace. To the sea and to the Nikitsky Botanical Garden you can take a walk for 10 minutes. The promenade of Yalta can be reached by public transport in 10 minutes also. Each room is equipped with a / a with a shower, TV, air conditioning and refrigerator.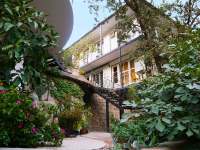 August Guest House, Оtradnoe
General information:
Located in Otradnoe - 80 meters from the sea. Double and triple rooms.
Decsription:
August Guest house is located in the coastal area of Yalta region, in one of the most picturesque corners - Otradnoe village. There are 2, 3-bed rooms provided with all necessary facilities. Such hotel facilities as parking, library and greenery are at the guests' disposal.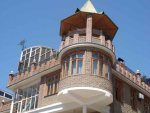 Hotel Bronze Horseman, Massandra
General information:
Private hotel on the outskirts of Massandra park.
Decsription:
Four-storey hotel has everything you need for a comfortable holiday in Yalta. By the sea there is a convenient descent by cable car to the private beach. The hotel - winter and summer gardens, cafe, playground, guarded parking area, indoor pool with heated water, solarium, kolyba, sauna, swimming pool, ping pong table, wireless internet, summer theater, billiards.
Other hotels in Massandra: