Hotels in Cherkassy: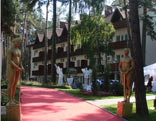 Ukraina Hotel, Cherkassi
General information:
Hotel rooms of 5 categories. The hotel is situated in piny woods at the outskirts of the town. Price per day from 329 to 1159 UAN
Decsription:
Ukraina Hotel is one of the best hotels in Cherkassy. We offer you 44 hotel rooms & suites of de-luxe level with all facilities. Rooms & suites are equipped with an air-conditioner, a mini-bar, a TV-set, a telephone, a bathroom or a shower cubicle. You can visit our restaurant, Finnish sauna, a meeting room, our bowling center or casino. Free Wi-Fi zone.

The hotel complex Dnepr, Cherkasy
General information:
The hotel complex "Dnepr" is located in the center of Cherkassy, known for its heroic past. Remodeled in 2000, the complex became a cozy place to stay for both tourists and businessmen and politicians.
Decsription:
The hotel complex is situated in the center of the city of Cherkassy. Types of rooms: 72 rooms of various categories. The on-site restaurant, conference zal.Restoran hotel is famous not only design aesthetics, but also the unique Ukrainian and European cuisine.
Hotel Niwa, Cherkasy
General information:
Hotel Niwa works since 1982. Number of rooms - 60 rooms.
Decsription:
Niva Hotel is located in Cherkassy near the bus station, airport. The hotel consists of a five-storey building and running since 1982. Rooms 60 rooms in 3 categories.
Other hotels in Cherkassy: