Hotels in Kiev:

Royal Hotel de Paris, Kyev
General information:
Отели на 11 и 20 номеров. Hotels are situated in the center of the city. Cost per day from USD 50 tо 250
Decsription:
Royal Hotel & Beauty Club De Paris offer their guests 11 comfortable apartments of the European standard following categories: "business class" - 3 hotel rooms, junior suites - 4 hotel rooms, one studio suite and 3 double-room suites. Each of the hotel rooms presupposes the presence of a conditioning system, a floor heating in a bathroom, a public-call connection, a satellite television, a plasma TV, Wi-fi, a mini-bar.
Ratsiotel Hotel, Kiev
General information:
Kiev hotel is 500 meters from the subway Borispol. 108 rooms.
Decsription:
Hotel Ratsiotel Kiev is 500 meters from the metro station "Borispol". To the international airport "Borispol" of the hotel is only 20 minutes away by car. The hotel - a caf? and a conference room. In each room, one and two single beds, memory foam mattresses, air conditioning, telephone, television, cable TV, bathroom with shower, hairdryer, Wi-Fi.
Hotel Landhaus, Brovary
General information:
The hotel with 39 rooms is located in the shopping center terminal.
Decsription:
Hotel Landhaus is located in the TRC Terminal in Brovary, offering modern facilities and services. Landhaus hotel room fund of 39 comfortable rooms made ??in the Bavarian style. In each room there is a German luxury furniture, air conditioning, mini-bar, in-room safe, satellite TV.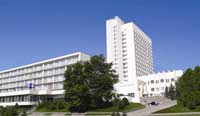 Mir hotel, Kyiv
General information:
270 hotel rooms, 2 buildings, 5 and 15 floors. Is situated near to the centre of Kyiv close by "Holoseievski" park.
Decsription:
The advantages of hotel Mir are the excellent location, developed infrastructure and high level of service by reasonable price! The hotel is situated in the most green, central corners of Kiev, near to "Holoseievski" park, ten metres from Goloseevskaya Metro station. Every hotel room is equipped with a phone, satellite television, refrigerator, and conditioner. 4 conference- halls (from 8 to 150 seats), WiFi. We offer services of the exercise room, hairdo studio, rail-tickets sale, shop. There is a lobby-bar, two restaurants in the hotel.

Hotel Corona Chubinskoe
General information:
Hotel near Kiev Borispol. 33 rooms of three categories.
Decsription:
Crown Hotel is located only a short drive from the airport Borispol. We offer comfortable rooms, equipped with everything necessary for a comfortable stay and temporary residence.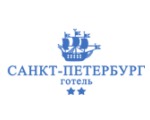 Hotel St Petersburg, Kiev
General information:
Hotel in the center of Kiev. Rooms 8 categories.
Decsription:
Hotel St Petersburg is located in the historical, cultural and business center of the capital, a few steps from the famous Khreschatyk. All rooms are equipped with refrigerators, comfortable furniture, washbasin, television with satellite TV, Internet Wi-Fi.
Other hotels in Kiev:

Kreschatik hotel
Kiev, Khreschatik str., 14



Absolut hotel
Kiev, M. Tsvetaevoy str., 10/87



Admiral-club hotel
Irpen, Sovetskay str., 116



Adria hotel
Kiev, R. Okipnoy, 2



Albion hotel
Kiev, L. Ukrainki blvd, 9



Bratislava hotel
Kiev, Malishko str., 1



Verhovina hotel
Kiev, Petropavlovskaya str., 24



Visak hotel
Kiev, Obolonskaya naberejnaya, 17



Dnepr hotel
Kiev, Khreschatik, 1/2



Drujba hotel
Kiev, Drujbi narodov blvd, 5



Dyubek hotel
Kiev, Gamarnika str., 56



Jemchujina Dnepra hotel
Kiev, Naberejno-Khreschatitskaya str., 5



Impressa hotel
Kiev, Sagaydachnogo str., 21



Libid hotel
Kiev, Pobedi sqv., 1



Nika service hotel
Kiev, Dovjenko str., 16



Obolon hotel
Kiev, Timoshenko str., 29



Opera hotel
Kiev, B. Khmelnitskogo str., 53



Prezident hotel
Kiev, Gospitalnaya str., 12



Puscha Lesnaya hotel
Kiev, v. Moschun, Lesnaya - 1



Rivyera hotel
Kiev, Sagaydachnogo str., 15



Senator apartments
Kiev, Pirogova str., 6



Sport hotel
Kiev, Krasnoarmiyska str., 55



Turist hotel
Kiev, R. Okipnoy str., 2



Ukraine Hotel
Kiev, Institutska str., 4



Feofania hotel
Kiev, S. Perovskoy str., 6/11



Express hotel
Kiev, Chevchenko blvd, 38/40



Eridan hotel
Kiev, Alma-Atinskaya str, 39a



Kozatskiy stan hotel
Kiev, Borispolskoe shosse, 18 km



Tsentralniy hotel
Belaya Tserkov, 50 let Pobedi blvd., 15



Vishegrad hotel
Vishgorod, Spasskaya str., 25



Gintama hotel
Kiev, Trehsvetiyelnaya str., 9



La Vilia hotel
Kiev, Uspeshnaya str., 15



Borisfen hotel
Kiev, Drujbi narodov sqv., 5



Kamelot hotel
Kiev, Melnikova str., 4



Sankt-Peterburg hotel
Kiev, blvd Shevcenko, 4



Premyer-Palace hotel
Kiev, blvd. Shevchenko / str. Pushkinskaya, 5-7/29



National hotel
Kiev, Lipskaya str., 5



Guest House Sherborne hotel
Kiev, Sichneviy lane, 9



Hotel Saturn
Kiev, G. Kosmosa str., 2 b



Sonya hotel
Kiev, Vladimirskaya str., 77



Piano hotel
Kiev, 40-let octebrya ave., 130/57



Pektogral hotel
Pereyaslav-Khmelnitskiy, Khmelnitskogo str., 55



Podol Plaza hotel
Kiev, Konstatinovskaya, 7a



Hayat hotel
Kiev, Alli Tarasovoy str., 5



Faraon hotel
Kiev, Naberejnoe shosse, 6-7



Obereg hotel
Kiev, Krasnozvezdniy ave., 25/16



Oselya hotel
Kiev, Kamenyarov str., 11



Salyut hotel
Kiev, Yanvarskogo vosstania str., 116



LaMa hotel, Kiev
Inn on the left bank of the Dnieper. Cost per day from 320 to 500 UAH per day