Hotels in Yalta:
Hotel Polana tales Yalta
General information:
Our hotel is located in a quiet and picturesque location overlooking the amphitheater of the mountains Ai-Petri just 4.8 km from the bustling promenade of Yalta. The price includes the following services: meals according to the chosen type, use of swimming pool, sun loungers and umbrellas, towels, use of a shower by the pool, WI-FI in the territory, animation for children (during Season and High), shuttle to the beach at scheduled times during the season and high season, use of parking, cot for up to 2 years inclusive on request, daily cleaning, towels and bed linen.
Decsription:
Pension Glade of fairy tales, how many meters from a picturesque location with views of Mount Ai-Petri, we are changed standard rooms and cottages, log cabins at a price of 3,000 to 14,000 p.
Hotel Tauris, Yalta
General information:
The hotel is situated on the waterfront Tauris Lenin. 32 rooms. Price per day from 2000 to 7100 rubles.
Decsription:
Facade of the hotel is decorated with wonderful columns, luxurious and spacious terraces and porches. Elegant Venetian courtyards with fountains, transparent dome roof, marble staircases underlined forged fencing in combination with unique statues, all this causes feelings of joy from what. In the lobby and atrium with a internet WI-FI.

Chaika Hotel, Yalta
General information:
9 rooms of hotel type The hotel is situated at the center of Yalta, 10 minutes' walk from the sea-front Price per day from 850 to 3000 RUB No reservation costs
Decsription:
Modern design of hotel and furniture, large toilet rooms, cable TV. There are a TV-set, a fridge and a safe in every room. Cold and hot water all-day-round. Large, functional and convenient kitchen. A dining room with TV has en exit to a cozy yard where you can relax, have a rest and dine under the shade of trees.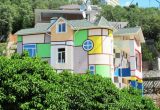 Monpanse hotel, Yalta
General information:
New here hotel in the center Yalta. 9 nomerov. The cost per day from 2400 to 6000 RUB
Decsription:
New Hotel "Monpanse" built in 2012 year and Situated in the center Yaltы in tyhom spokoynom place. Okunytes skazochnыy peace in childhood with raduhoy krasok and non-ferrous Snov. Territory HOTELS razdelena in Two parts: verhnyuyu and nyzhnyuyu, to partition techet hornыy ruchey, who poured zapolnyaet pond with koi and dekoratyvnыmy Rybka.
Hotel Knyazhiy grad, Gaspra
General information:
Princely castle villa is located close to the castle "Swallow's Nest" in Gaspra.
Decsription:
Princely castle hotel is located in the village. Gaspra. Rooms villas are one-, two-and three rooms with bath, air conditioning, a fridge, a safe, a TV and a private terrace. It features - cafe, sauna, BBQ, pool, parking, summer theater, satellite TV, a children's playground, swimming pool with its own mini water park.
Polyana Skazok Hotel, Yalta
General information:
Hotel rooms & suites of 9 categories Hotel is siteated in a pucturesque place of Yalta at mountain feet
Decsription:
We offer a bar, a cafe, a billiard, a sauna, a pool with biological water-cleaning, a training center, a massage cabinet for our guests, as well as guarded car-parking, multiple excursions to the sea along the Southern Coast of Crimea, horse-riding. There is a well-known Botkinskaya Path near our hotel, that goes through an old pine forest to the marvelous Stavri-Kaya rock.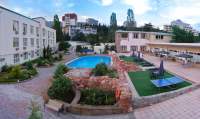 Prestige Hotel, Yalta
General information:
Hotel is located in the center of Yalta. Rooms of 7 categories.
Decsription:
Prestige Hotel is located in the center of Yalta, just above Moscow street. The comfortable, spacious rooms with all amenities, both of standard and high comfort categories are waiting for you here. The presence of various saunas at the hotel (Russian and Turkish, Finnish and infrared sauna) will make your vacation in Yalta, even in winter, unforgettable.
Hotel Yacht Club, Yalta
General information:
Hotel by the sea, the rooms of 4 categories.
Decsription:
Hotel Yacht Club is located just 5 minutes drive from the center of Yalta, and in the first line to the sea - 10 meters from the shoreline. On teritorrii restaurant offers dishes of European, Russian and Ukrainian cuisine, hour parking, laundry services round the clock.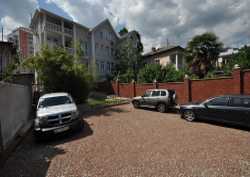 Hotel Anna, Yalta
General information:
A cozy mini-hotel in Yalta, near the sea and the promenade.
Decsription:
Hotel Anna is situated in Yalta downtown at Kievskaya street . The hotel was built in 2010. Anna Hotel offers a variety of rooms to accommodate from two to six people with the ability to add beds.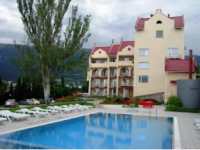 Krimskyi Hotel, Yalta
General information:
Located in the historic part of Yalta. 56 rooms. Booking on-line.
Decsription:
Krimskyi Hotel is located in one of the most scenic historic parts of Yalta, on Polikurovsky hill near the bell tower of Ioan Zlatoust. Fifteen minutes of walking through the oldest Massandra park will lead you to the beach of Actor recreation center and the beach of Yalta-Intourist hotel complex. There are a toilet, shower (bath), TV, refrigerator, air conditioning, digital telephone connection in each room.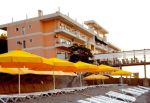 Ripario Hotel Group, Otradnoe
General information:
Hotel in Otradnoe - 4 km from Yalta to the 205 rooms of different categories.
Decsription:
Hotel Ripario Hotel Group (last pension Coastal) is located in the village Otradnoe. The hotel - 205 rooms, four conference banquet rooms, two restaurants, medical center, bars, fitness center, tennis courts, an outdoor cinema, a swimming pool.
Koral Guest House, Yalta
General information:
Guest House is located on the beach of Massandra. 5 rooms.
Decsription:
Koral Guest House is located on the first coast line of Yalta, near the central waterfront. Luxury Suites of our guest house will add comfort and coziness in your private vacation in Yalta. The spacious balconies of the rooms offer superb views of the emerald sea, blue mountains and the boundless sky.

Hotel Villa Elena, Yalta
General information:
The hotel with 32 rooms is situated 50 meters from the sea.
Decsription:
Hotel Villa Elena is located 20 meters from the waterfront in the center of Yalta. Each has a living room, dining room and kitchen decor that creates a homely atmosphere and cozy, mini-bars and safes. It offers - five restaurants, a swimming pool, a conference room and a lot of services for a comfortable stay in Yalta
Other hotels in Yalta:
Slavyanskiy Alliance Hotel
Yalta, Pushkinskaya str., 11