Hotels in Foros: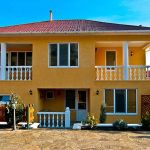 Hotel Shangri-La, Foros
General information:
The hotel is located two minutes walk from the sea. 5 cottages. Rate from 1000 to 6000 RUB
Decsription:
Hotel Shangrila - is a complex of cottages, where each room is individually decorated and every small detail. The modern two-story cottages Shangri-La will provide comfortable accommodation in Foros - each floor is rented separately. Each room has a kitchen, which has everything you need for self-catering.
Grand Fleur Hotel, Foros
General information:
Located 100 meters from the sea. Five categories of rooms
Decsription:
Grand Fleur Hotel is located in the heart of Foros, 100 meters from the Black Sea coast. The hotel offers views of the sea, mountains, park and Church of Foros. The combination of optimal price, comfort level and location right on the shore of the Black Sea allows us to expect your attention.
Guesthouse Mona Lisa, Foros
General information:
Family-style pansion for 4 rooms, located 70 meters from the beach Foros
Decsription:
Guesthouse Mona Lisa is located near the central square, 50 meters from the Sanatorium "Foros", and 70 m from the beach of the village. Types of pension fund account for the 4th comfortable rooms. There is also a cafe with European and Oriental cuisine.
Other hotels in Foros:
Hotel Green Hill, Foros
From the hotel to the nearest beach is 300 meters. 20 rooms. Price per day from 2000 to 6000 rubles.