Hotels in Alupka:

Atriy Hotel, Simeiz
General information:
Hotel with 16 rooms in the resort village of Simeiz
Decsription:
Atriy Hotel is situated in 2-minute's walk from the Bus station. We offer hotel rooms for 2-4 persons of Econom, Semiluxe & De-luxe categories. There are a comfortable cafe, a sauna for any taste (dry steam, with essential oils), a mini swimming-pool on the hotel territory. After the sauna you may order aroma teas of Crimean herbs and take delight in calmness. We have a car-parking.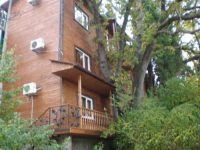 Hotel Una, Alupka
General information:
Hotel in Alupka on the border of the park area Vorontsov Palace. Three numbers.
Decsription:
A privately owned hotel is located in Yong-five-minute walk from the Vorontsov Palace and the sea. Each room guest house is equipped with two Yuna double bed, sitting area, TV, refrigerator, split-system (winter-summer).
Alupka Hotel, Alupka
General information:
Located in vicinity to Vorontsov park in Alupka. 39 rooms.
Decsription:
The hotel is located in vicinity to both one of the most splendid Crimean parks Vorontsov park and beach - Count Vorontsov Baths (10 minute walk). It offers hotel - the conference hall for 30 seats, transfers and excursions, mini safes, sauna, cafe.