Hotels Pavlograd: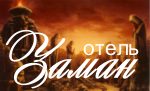 Hotel Zaman, Pavlograd
General information:
Located in the outskirts of the city in the direction of Donetsk. 15 rooms.
Decsription:
Zaman Hotel is located on the main thoroughfare of Pavlograd, as part of the highway Kyiv-Donetsk. The hotel has 15 rooms: Suite, Junior Suite, Standard. At the hotel's restaurant with summer terrace, bar, pool, 3 saunas, an outdoor pool, parking for cars.